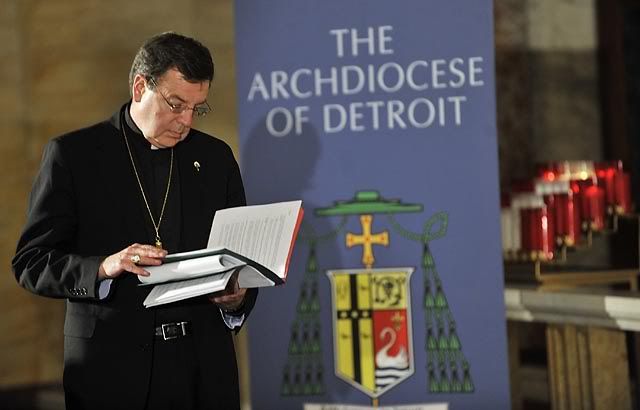 Detroit — Archbishop Allen Vigneron said Monday he hopes a sweeping restructure of local Catholic parishes will result in stable churches that are able to evangelize and get more people back into the pews.
Under the changes to the Archdiocese of Detroit's 267 parishes, two churches will close by year-end and 31 will merge by 2013.
Additionally, seven parishes will merge within the next four years as a result of the reorganization given final approval by Vigneron.
Six other parishes will have to submit "acceptable" debt repayment plans by June or be forced to close or merge with another nearby parish. Seven others have cluster arrangements that are still being worked out. In all, 53 parishes are affected.
"We are going to have to grow our church, help people and get people back to Mass," Vigneron said during a Monday news conference at the Blessed Pope John Paul II Parish on the city's east side.
Vigneron officially announced his approval of a plan recommended by the Archdiocesan Pastoral Council last December about which churches should close, cluster and merge in an effort to save financially struggling parishes and address a continuing priest shortage.
Under the plan, St. Donald Parish in Roseville and Our Lady Queen of Peace in Harper Woods will close. St. Donald will shut in June following the retirement of its priest, the Rev. Michael Donovan.
Our Lady Queen of Peace's parish council planning group recommended closing and that its building be put up for sale in June.
Priests and parishioners were mailed the final plan and an eight-page letter from Vigneron to parish priests, leaders and parishioners.
Vigneron did not say how much money the parishes will save.
At Catholic churches across the area, Sunday Mass was a mix of sadness and anxiety as parishioners who had not heard about the plans wondered if they will still worship in the same building and with the same people.
Some like Gloria Primus, a longtime parishioner at St. Leo in Detroit, are adamant about staying put.
"I don't want this church to close," says Primus. "If they close this church, I'm not going to (nearby) St. Cecilia."
At other churches such as Good Shepherd Catholic Church on Detroit's east side, there was relief. The parish will be entering into a cluster with St.Augustine/St. Monica, on Seminole near East Forest, according to the final plan.
Under the cluster plan, two or more churches will share a pastor but have separate parish councils and finances. They also may share administrative resources such as staff. A merger means two parishes create a single parish with one pastor. The parishes combine finances and parish councils, according to the archdiocese.
Good Shepherd's pastor, the Rev. Michael Nkachukwu, said the plan is "very ambitious" but well thought out.
"If you don't look at it as gloom and doom, it is strengthening," said Nkachukwu on Monday. "This is a chance for something new and exciting."
Nkachukwu, whose parish is in the Renaissance Vicariate, said he will soon meet with the pastor of St. Augustine/St. Monica to work out plans for the new partnership.
At Our Lady of Fatima Catholic Church in Oak Park, the Rev. Paul Chateau is preparing to meet parishioners at nearby St. James parish in Ferndale to begin the cluster process with the Woodward Avenue church. The arrangement also will include Our Lady of LaSalette parish in Berkley.
"There will be some consolidation but only at the direction of the people we serve," said Chateau.
For John Karpiej, a longtime member of St. Louis the King parish on the city's east side, change is necessary to keep the doors open. "We have to look at it as a common goal," said Karpiej who attended Vigneron's news conference. "We have to look at the problems the church is facing with the priest shortage."
Nkachukwu said he was "greatly relieved" in a letter to this parishioners. "Can anything be more uplifting than (the archbishop's) upbeat and proactive message?"
Vigneron says he doesn't favor longtime cluster arrangements.
"I'm not looking for clusters to be a long-range solution," said Vigneron. "It's not healthy for the pastor or the parish."
Vigneron said he is more worried about how the decline in the number of priests is affecting the stability of parishes. "There will be 100 fewer priests in the next 10 years," he said.
By year-end, the archbishop is asking 214 remaining parishes to submit a plan to cluster, merge or collaborate in some form with another parish.
"I need a plan from everybody about what they are going to do," said Vigneron. "Every parish has to have a partner."
It was a theme shared by Monsignor G. Michael Burgarin, pastor of St. Joan of Arc.
In St. Clair Shores, St. Lucy and St. Joan of Arc will merge into one church but they have until 2016 to submit their plans.
Burgarin, also vicar of SERF vicariate, said the restructuring is about making churches stronger. "People are very well receptive to it especially when you highlight what the people want is the absolute best type of parish … ," he said.
Parishioners from St. Lucy on East Jefferson and St. Joan of Arc on Greater Mack have already been doing community outreach projects together, said Burgarin, dispelling some of the concern that people are territorial about their parishes. "That's a thing of the past," said Burgarin.
Story by Detroit News